This building has 4 rooms/areas available to be booked on a first-come, first-served basis with priority given to the Scouting youth program.
Gilwell Room (Downstairs – without windows) – Smaller meeting room
Brownsea Room (Downstairs – with windows) – Medium meeting room
Upper Hall and Dance Floor – Large activity area good for sleepovers
Upper Hall and Dance Floor
UPSTAIRS is rented as one location. This includes a large hardwood play/dance/seating area with stage, an upper carpeted area, a kitchen with fridge, stove and microwave (no dishes) and two washrooms (no shower).
Seating capacity 125. Tables and chairs available. Parking on site for approx. 40 vehicles. No alcohol is allowed on site. No wheelchair access.
UPSTAIRS is ideal for a group sleepover – comfortable capacity for this would be 30. It is available most Friday evenings from 6 pm, and Saturday nights provided exit is by 8:30 Sunday morning. Open to Scouts and Guides and any non-profit youth groups who can provide Certificate of Insurance covering Scouts Canada of $2,000,000 liability insurance for duration of stay.
Overnight rental rate: $5/person/night for Scout groups, $6/person/night for non-Scouting groups.
Hourly evening or weekend bookings of Upper Hall & Floor will be negotiated dependent on numbers attending and facilities required. Minimum rate – $15/hour
Meeting Rooms
MEETING ROOMS: (each with chairs, tables, whiteboard) These two rooms are on the ground floor and served by washroom. Wheelchair accessible.
Gilwell Room (Downstairs):
(capacity 25) Scout Groups: $10/hour, Non Scout Groups: $20/hour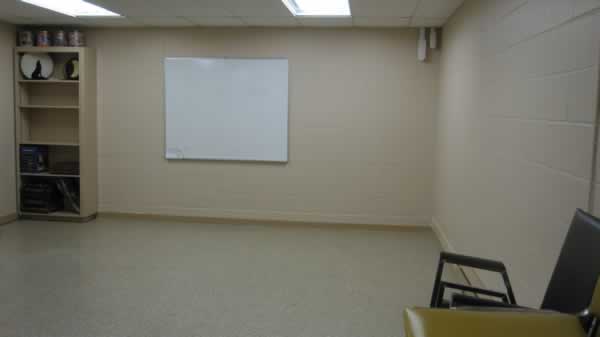 Brownsea Room (Downstairs):
(capacity 15) Scout Groups: $10/hour, Non Scout Groups: $20/hour
Office (Downstairs. Limited availability):
This area is available to Greater Victoria Area teams only.
To reserve a Scout House facility:
UPSTAIRS is booked as one location. Upstairs is in use year-round Monday-Friday, 6:45 am-5:45 pm by Kids Klub for morning and after-school care and day camps, and is used Mon., Tues., Wed. evenings by 3rd Douglas group from September – June.
GILWELL ROOM and BROWNSEA ROOM are available for bookings during the week and on weekends. The Office is available to Scouting meetings only.
Scouts wishing to use Scout House must reserve space by emailing info(at)victoriascouthouse.ca with date, time and room required. Hourly bookings can be made by email request. All overnight bookings must use the registration form to book.